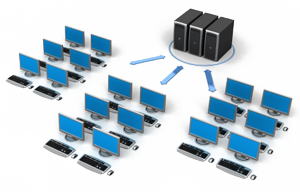 NewTek Data Systems Services
NewTek Data Systems provides complete IT support for small and medium businesses. From outsourcing your business' complete IT needs to one time specialty jobs, NewTek provides a wide range of services to keep your computers running efficiently.
Keeping your workstations and servers working is network support. From servers to workstations to firewalls to everything else, NewTek provides needs analysis, installation, configuration, maintenance and troubleshooting on all of your network equipment.
NewTek keeps your accounting, manufacturing, and other applications working together to provide your business with the latest information on sales, purchases, production, shipments, etc. If your accounting system is not working properly, our Business Consultants are available to help train, fix, customize, upgrade, or replace your applications to suit your business needs.
Our Programmers work with you and our Business Consultants to customize software applications that meet your specifications. Whether your application is written from scratch or just needs some minor changes, NewTek's programmers are available to write code that solves your problems and increases your business productivity.
Two areas where our specialists can protect your business in a hostile IT world are Forensics and Security. Computer Forensics allow you to recover data from crashed systems as well as from former employee's hard drives. Security Audits verify that your network and computers are properly configured for maximum protection against hackers, spammers, and other intruders.
Website Programming brings your business alive on the internet. Our web developers are proficient in creating exciting websites that rate high on search pages to bring in customers. From E-commerce to simple information pages, our developers can handle your needs from large to small. Search Engine Optimization will get your website noticed when customers look for your products.